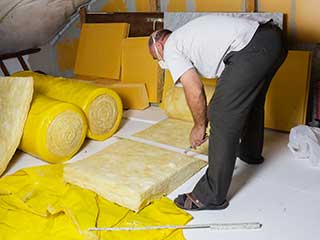 Your attic doesn't have to be a place to be feared of! our cleaning experts don't only clean ducts. Read on to learn about how we can help you get your attic back in shape!
Cleaning Your Crawl Space
Crawl spaces can make even the bravest homeowner feel claustrophobic. If there have been pest infestations in this space, getting it properly cleaned is important. In addition to providing full-service solutions for all of your attic related needs, our team can take care of all the necessary crawl space cleaning for you.
Insulation? What About it?
One of the simplest ways to create a safer and more efficient home is to invest in professional attic insulation. Reducing thermal loss through your roof is one of the many ways our team can help you keep energy costs low while improving the overall value of your home.
Issues With Your Attic Can Often Go Unnoticed
Some homeowners use attics for storage purposes, but most people avoid spending time in these cramped and dusty spaces. By the time people realize there's a problem, professional help might be required. Leaks, lack of ventilation and various types of animal infestations can all damage your home and make it less livable.
Thankfully, our team is extremely experienced with handling every type of attic related problem. Older homes often have inadequate insulation, which can result in higher heating and cooling costs. We can handle the removal of your old insulation, as well as the installation of newer, more effective insulation.
Don't Let Animals Infest Your Attic
Not only can animals in your attic be annoyingly loud and messy, they can damage your stored property or chew their way through insulation and/or electrical wires. Some of the potential pests that can get into your attic and claim it as their own include bats, birds, mice, rats, squirrels and raccoons.
While trapping or catching and then relocating animals can resolve immediate issues, chances are good new critters will quickly swoop in and take their place. This sort of headache can be easily prevented with our professional rodent proofing services.
Don't wait until an issue gets out of control. Contact our Air Duct Cleaning Simi Valley team today to learn more about our attic insulation and repair services.