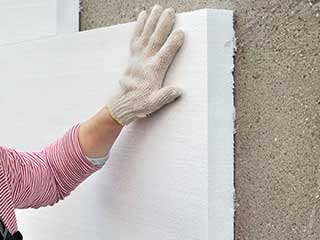 Like everything else, insulation degrades and decays over time. There is however a number of home insulation methods that increase your home's thermal efficiency while also improving the condition and strength of your walls, roofing, and structural integrity. These methods are as a result, also very likely to increase the value of a property, providing they've been fitted correctly.
Common Insulation Methods
Spray foam solutions are a popular modern form of insulation tool. They are usually made from mostly polyurethane and are most commonly used in the insulation of roofing. The foam contains a mixture of two chemicals that react to each other and then harden and trap small pockets of air throughout the layer. Polyurethane foams are usually flame retardant, and as they are a foam that spreads into the gaps and holes between boards and tiles, it effectively acts as a glue that can add adhesive strength to the overall structural integrity of whatever surface they are used on.
External Wall Insulation
Another widely used example would be external wall insulation. In this procedure, highly resistant materials are injected into your brickwork to plug the gaps. Like the polyurethane foam, when it sets it becomes hardened and adds further strength to the wall. Many owners will view it as having your walls repaired as well as insulated to be more energy efficient.
Expert Installation
Our team at Air Duct Cleaning Simi Valley offers the best insulation services around, and we can ensure your new layers and materials are perfectly fitted to the surface we apply them to. We offer a full range of internal and external insulation solutions that will maintain your indoor temperatures as efficiently as possible. Call today to let us know how we can help!