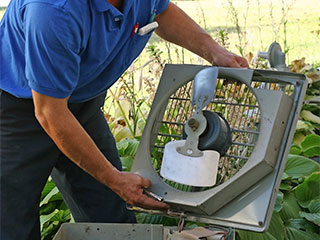 When your HVAC ductwork is cleaned on a regular basis, you can expect to enjoy better indoor air quality at your home or office, as well as improved energy efficiency, which will save you money. You can create a schedule for this based on the specifics of your HVAC system, the area where you live and your personal needs. In some cases, however, emergency cleaning of the ductwork can be required.
The Impact On Respiratory Conditions
If someone in your family has been diagnosed with an allergy, asthma or another serious respiratory disease, be it chronic or acute, you should take every possible measure to make your indoor air quality as safe and comfortable for that person as possible. These measures include not only deep carpet cleaning, but routine air duct cleaning as well. The latter step will prevent particles such as dust and pollen from circulating all around the interior of your home, which will certainly aggravate the symptoms of that person. It will also make the rest of your family feel better, as you'll be breathing much cleaner air.
In general, households with members that suffer from a respiratory condition must have their air ducts cleaned more frequently. You should also consider getting more effective replacement air filters. The higher their MERV rating the better protection from contaminants they can provide you and your family.
After Completing a Home Improvement Project
You should definitely have your ductwork thoroughly cleaned every so often, but it becomes incredibly necessary once any renovation work gets finished. Especially if you failed to properly seal your HVAC air vents before you started the project. Large amounts of dust and debris are produced during any interior and exterior home improvement projects, and a good portion of the particles will find their way into your air ducts. You should do whatever is needed to prevent these particles from being circulated around your house. Air filter cleaning or replacement will also be required, most likely.
Mold Infestations
There are two major reasons why mold has to be removed from your HVAC air ducts without delay. The first one is that it is dangerous for people and aggravate, and potentially even cause, a number of respiratory problems, especially in children and elderly persons. The second reason is that mold can cause considerable damage to your air ducts. Get it removed as fast as possible, and more importantly, have your ducts professionally sanitized afterwards.
Speaking of Professionals...
Our Air Duct Cleaning Simi Valley team is at your service. Whatever the issue, we can take care of it for you.